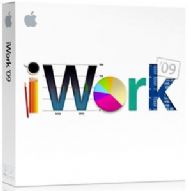 Apple makes beautiful software. I love their approach. Start with a really well thought out human interface that is intuitive and easy to use, then build in the power.
With the addition of Endnote and Mathtype compatibility along with dynamic outlines, Pages has become a serious word processor. And what a pleasure to use. That's something I haven't said about Word since version 5.1 for the Mac.
Numbers isn't really competitive with Excel. Still missing are scripting and pivot tables, however, I would venture to say that what they have delivered in iWork 09 addresses better than 80% of user's needs, i.e., opening and reading spreadsheets as opposed to actually creating them.
The real problem with Numbers isn't the feature set, it is the fact that Excel is the de facto industry standard and the community of PC based Excel users. The improvements in Numbers: ability to open current versions of Excel documents and save, email, over 100 new formulas, dazzling charts and lots of other zippy features are nice, but, they don't really address the more serious business issues of cross platform support. Excel has better than 90% of the spreadsheet market share which is dominated by PC users and it is doubtful that Apple will, or for that matter, ever intends to go after the entire installed base.
So, nice app, but in the business world it really won't have a tremendous impact unless Apple decides to compete head to head with Microsoft.
I believe that Numbers is really designed for Mac users who are sick and tired of lame Microsoft Office products which they hare endured for years. Instead of spending c. £300 on Office, Mac users can buy iWork for £60. And with the ability to open and save Office documents, this may be enough of an enticement to abandon the Office suite in favor of something elegantly designed, fun to use, feature rich and Office friendly.
Keynote. You know, when you use Keynote and then use Powerpoint, you realise just how much of a dinosaur Powerpoint really is. Keynote is so easy to use and the presentations are beautiful. I'm sold.
Adding interoperability between Pages, Numbers and Keynote was badly needed and will help attract new users. And, I'm sure we will continue to see even more improvements as the iWork suite continues to mature.
iWork.com? I don't know about that. If Apple handles this like .mac or me.com, I don't really see this going anywhere. If Apple is really going to get serious about collaborative computing, they've got some homework to do. And, then they'll be competing with Google. I'm not sure I would want to bet the bank on that one.
Do you use iWork 09 as your main office app? Let us know...